Since 2016 I have my own music edition "Edition Kalimba". More than 100 works for guitar and mandolin are published since then. The Corona year 2020 made it difficult to sell music books, especially books for ensembles and orchestras. I invested my full creative energy in releasing my music on streaming platforms. Among the releases are old works but also new compositions. I released 4 albums from Renaissance to the romantic era including 600 years of classical guitar music as well as "Mandopolis" my large oeuvre of 12 scordatura fantasies for Mandolin played by Annika Hinsche. The modern technology makes it possible to record music together with friends all over the globe. I found so many wonderful friends and musicians thank to the social medias, especially the FB communities of independent musicians. I am so grateful for the inspiration I experience every day from my loyal, friends, listeners and fans. I am happy about the happy faces of  young guitarists who I discover on many YouTube videos and who play my music. Beside all this activities I teach more than 50 students every week, (online since lockdown in March). I am so gifted with all this creative energy I feel every day!

---
friends & soulmates
In 2020 some wonderful collaborations arose with a dear old friend and many new friends
Dany Kuhn was my best schoolfriend during the adolescent years. We founded our first rockband at the age of 15 where Dany played the keys. I was playing the drums. We lost sight  for 40 years until we rediscovered each other on FB in 2019. We celebrated our reunion with a couple of beers, and it only was a matter of time, when we would release a song together. Dany came with the Musical idea of Spanish Dream and it was so inviting to do the guitar part on this piece. A real beauty!

When I listened to the songs of Peter Lainson on Spotify I was enchanted by his songs and his warm voice that immediately touched my soul.  Peter is not "only" a gifted singer, but also a fantastic guitarplayer with a personal "handwriting". When I "knocked" (clicked) on his door, a friendship developed immediately and I asked him to release a piece with me. Next morning, sitting with a cup of coffee in my kitchen in my holiday flat, "Anthem" streamt out of me and in less than one hour it was written down and sent to Peter. His distictive guitarsound makes the piece a jewel. Whenever I listen to Anthem it fills me with gratitude and calm. We did also a second collaboration "Month of May" which was Peters idea. It was a honor to add my guitar part. The piece smells of flowers and fresh grass. I lie down in my thoughts and look at the vast blue sky.
Nick Truch aka "Aroshanti" is a globetrotter who has traveled to the most remote places on the planet. So he made acquaintance with so many archaic instruments like the japanese flute, gongs, frame drums and jews harp among others. He also is a master of overtone singing. His atmospheric soundscapes carry you over hills and mountains to distant lands. I used to listen to his music to find sleep or for doing my daily Chi Gong. Aroshantis music touches you like a Buddhist monk's prayer in a remote monastery. I sent Nick an e-mail with the invitation to create a piece together. He listened to my music and agreed with the plan. I normally am a more busy and sometimes nervous person. To work with Nick is like diving into the ocean, where you feel calm and safe. I sent him my guitar part of "Pilgrim" and the form I suggested. What Nick added is just breathtaking. Pilgrim became a piece of deeper dimension.

Irina Maria Garbini is a spiritual healer, multi-instrumentalist and singer. With an inexhaustible range of healing treasures, Irina supports people who want to find wholeness and connectedness to oneself. Chanting is part of her healing ceremony, and when Irina sings, your body vibrates down to the last cell. After long conversations about spirituality and our origins and a musical session I was inspired to compose a piece especially to form the perfect floor for Irinas voice. "Starchild" is a  very strong and intense piece. It became more than a release, it became a shamanic message. Irina has Greek and Italian roots and a huge repertoire of greek folk songs. Dany Kuhn, her husband then produced the beautiful greek hymn "Apopse thelo na pio". He also plays the keys on the song. Before finishin, Dany and Irina asked me to bring some greek mood into the song. So I took my old Bouzouki from the screed and added also some mandolin - and guitarplaying. -Take a greek journey with this song!
I have a preference for musical specialties. Chris Kramer is one of the greatest blues harp players, and a fantastic singer too! He's the three times winner of the German blues award. His outstanding "Chicago blues" project and the breathtaking "Beatbox 'n' Blues" trio is a must for blues lovers. Once again I contacted one of my favourite musicians on Spotify and after listening to my music, Chris was fire and flame for the project. I started to make some proposals and it needed some run-up to find the perfect blend for a classical trained guitarist and a blues rooted harmonica player. In June I had a hiking- accident in the mountains with a serious injury to the arm. Once again my guardian angel saved me from worse. This experience was decisive for the piece "Guardian Angel" that I wrote in summer. The sound and the feeling Chris brought into the song made it a beautiful tribute to an angel!
Raùl Sanz is a young producer and composer from Zaragoza. His epic and atmospheric soundscapes caught my interest. Raùl is an artist with a big heart. He also is the founder of the "Noise of Dreams" network for independent artists and he spends so many hours in selfless working for the community. He is also committed to helping disabled people with his network. "Carried on Wings" is a fragile and comforting piece. The classical guitar is flying on atmospheric clouds. The piece seems to dissolves gravity. We released this piece in the last december days of 2019.
---
Pieces From Paradise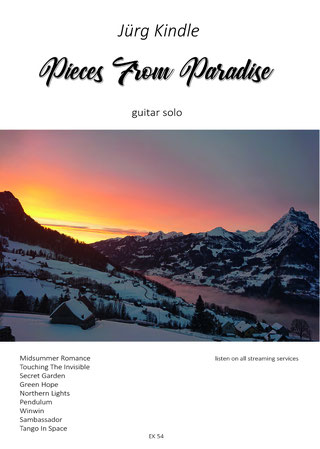 In January 2020 I released my music book "Pieces From Paradise" with 9 compositions that I released on Spotify and all streaming and download services during 2019.
The cover photo was shot from the balcony of my holiday flat in the Swiss mountains, where most of my music was composed.
The book is available in www.editionkalimba.ch
---
A journey to the ancient greek gods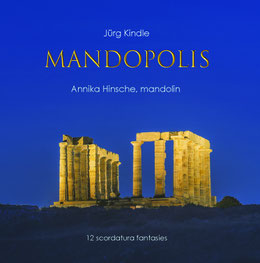 "Mandopolis" is maybe my most elaborate work with two years of creation time. The work cycle was created in collaboration with the wonderful mandolin artist Annika Hinsche.

If these usually pair-tuned strings are now individually tuned, they cannot produce only up to 4 but up to 8 different notes, even two more than the scordatura-proven guitar. In this respect, Kindle realizes a potential that neither the violin nor the guitar possess. But even in those movements that use 4, 5 or 6 different open strings, the mandolin in "Mandopolis" sounds novel, unknown, not commonplace, as it is said about the appearance of the gods in the dust of everyday life. The complexity of the sound increases with the scordaturas, and the play with the pick occasionally demands a new form of precision of the right hand, as in some of the pieces one string sounds different than its neighbor when played in up- or down-stroke. A common down-stroke on two strings creates unusual sound effects when the strings are tuned differently. Kindle uses this effect skillfully to make the instrument sound new and sometimes "divine".
---
solo releases
I had 10 solo releases in 2020. 2 pieces played with my steelstring guitar ,"Celtic Fantasy" and "S'isch äben emol e Mönsch uf Ärde"which is based on an old Swiss folksong. Two classical  pieces I played with bariton guitar which sounds a fourth lower than the classical guitar. First mouvement of Beethovens moonshine sonata and Bachs Air on a G-string. The Brasilian chôro piece "Turbilhao de bejios" (a whirlwind of kisses) by E.Nazareth is a longtime favourite of mine. I played the melody with the Brasilian Bandolim, which has 8 double-strings like the neapolitan mandolin and it is also tuned in fifths. As accompaniment I play here the classical guitar and a short intermezzo with steelstring guitar. Bach and Beethoven made it on the giant Spotify editorial playlist "classical new releases".  To my astonishment the steelstring releases always get an extra boost from the listeners. On the other hand, it's not easy to release contemporary compositions on classical guitar. So two of my releases seem to be underrated a lot: "Lone Wolf" and "A Fairy Tale".
---
album releases
during my 45 years of playing classical guitar I collected tons of guitar music sheet. Some pieces became all time favourites like "Mallorca" by Isaac Albéniz or "Lachrimae antiquae pavan" by John Dowland. From the Renaissance era up to the Romantic era and todays music my repertoire includes music from 600 years of guitar history. It was time now  to make "tabula rasa" and to credit all this unbelievable forefathers of the guitar. After the release of "Spanish and Latin Guitar" in 2019 I released 3 guitar solo albums in 2020. "Renaissance, European Lute masters of the 16th century" ,"This is Classical Guitar" with music by Fernando Sor and Mauro Giuliani and "This is Romantic Guitar" with works by Tarrega, Llobet, Mendelssohn a.o. It was hard work to create this collection, I needed to practice a lot to reach the technical level of the 25 year old hothead I was. I'm really proud of this work. The history of guitar music also became my own history. The guitar carried me through all the storms. I had to let go of a lot in life but music always has been loyal to me at all times.
---
---